August 24th, 2010
Singapore Gang Rape Case
Do we judge a victim of rape more harshly than the victim of any other crime? A look at reactions to a local gang rape case that suggest we do.

The judge said it was factually rape.
Five young men aged 17-19 versus one young woman aged 17.
… a gang sexual assault of a grave nature which the accused persons had perpetrated without her consent.
Despite this fairly clear-cut assessment, the charges were reduced and the five accused were found guilty of the lesser charge of "aggravated outrage of modesty."
Why did the public prosecutor* agree to reduced charges? We may never know but the favoured theory of the rumour mill was echoed in recent TNP coverage:

"…she […] was not completely blameless."
– The New Paper (14 August)
In other words, it was partly her fault.
If this reasoning sounds familiar or even sensible it is because we believe it to be true in almost every case of rape. You don't even have to know the facts of a case to know this will be suggested.
So what are the facts in this particular case?
According to various news sources the story goes like this (some details omitted for brevity):
WARNING: This account is graphic. Skip to the next section if you are disturbed by stories of violence.
The boys wanted female company. The group leader got the girl's number from one of the others and called her claiming to be a schoolmate. The victim accepted the invitation for supper and was surprised when she arrived at the apartment to find a group of guys she didn't know (only one of the five was known to her). After some reluctance, she agreed to enter the flat. There they played drinking games and she consumed more than five shots of vodka. Her head was spinning and her vision impaired. In this state, after some pressure, she became aroused by the boy who kept hitting on her. She agreed to sex with him alone in the bedroom. When the two later emerged, she went to sleep off her stupor on a bench in the common area. While she rested, she was carried back into the bedroom and stripped naked. Someone said "let's start." Then, over the course of the next two hours, each took their turn as they held her down. Some penetrated her vaginally, others orally. When they were done, she was left bleeding from vaginal trauma. They helped her wash up then gave her $10 for cab fare home.
So how can she be blamed in such a hideous scenario?
One lawyer explained it as follows:
"It's like driving while intoxicated. You have to take some responsibility for your actions."
It seems the victim was guilty of drunk driving a vulva.
Let's look at a very similar situation.
If a man were to get completely drunk and wander into a dark ally, is he responsible when he gets beaten up and robbed? We acknowledge that his behaviour was risky and the outcome foreseeable. But would his risky behaviour be grounds for reducing the sentences of the perpetrators? Do we say, "Well yes that was wrong of them but he did tempt them so it's not totally their fault. He's partly to blame."
In this scenario, we do not mistake foolishness with provoking attack. The attacker doesn't receive leniency just for finding easy prey.
Then why, in the case of rape, does the same failure result in blame?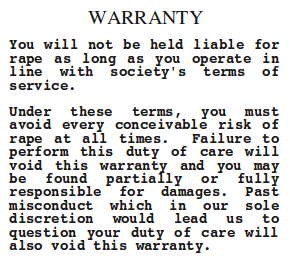 As a society we generally hold the belief that women must always be on guard to protect their virtue because men cannot always control their natural urges.
To be raped is to fail at this duty of care. It is thus a matter of shame to be a victim. What other crime causes the victim to feel such shame?
And when we blame the victim, the inference is "so it's not totally his fault."
A rapist is not a victim of opportunity. His youth or mental capacity may provide reasons for leniency but we should feel no sympathy simply because he found an easy victim who failed to expect violence and failed to exercise caution.
Now before anyone gets bent out of shape because of situations where there may be a genuine misunderstanding about consent, let's remember where we started this discussion. This is a clear-cut case of gang rape. Any guy finding himself with four friends holding down and penetrating a drunk girl is under no doubt he is engaged in a violent criminal act.
So why, even in this very shocking scenario, do we still ask, "How may she have brought this on to herself?"
It seems we just can't help ourselves. It's illogical, indefensible and certainly not just or compassionate. Yet the idea of female culpability is deeply entrenched in our psyche.
Stop blaming the victim.
A woman may expose herself to risk for many reasons: youthful innocence, a trusting nature, a carefree attitude, lack of cynicism and suspicion, thrill seeking behaviour, desire for acceptance, and so on.  Whatever the reason, it is not an invitation to rape.
The failure of a woman to adequately assess the risk of attack does not mean that she caused what happens and should take blame for it.
Yes, we should educate and encourage women to limit their risks, but this should not in any way imply that the victim is responsible for being violated.  We need to stop blaming the victims of rape.

*The public prosecutor acts on behalf of the state, not the victim. The prosecutor is NOT the victim's lawyer. Rape carries a sentence of up to 20 years in jail. Aggravated outrage of modesty carries a sentence of up to 10 years however the public prosecutor only asked for 3-5 years in this case.
More:
Note: AWARE is concerned about this case and has written to the Attorney General's Chambers to seek clarification as to why such unusual leniency was shown in this serious gang sex assault case.