December 15th, 2011
Finance and management courses for foreign domestic workers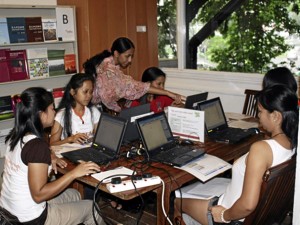 Looking for a Christmas gift for your domestic helper?
This year, give the gift that will last a lifetime. Give the gift of hope & learning to the woman who makes your life work. Give your helper the gift of an aidha education.
aidha is the world's micro business school. We provide financial and management education to foreign domestic workers here in Singapore. Our courses in money management and business development help our helpers create brighter futures for themselves and their families back home.
Your gift of $350 will cover enrollment in our powerful foundations module. During the 18 sessions, she will build her savings, her computing skills, and her management insight.
A gift of $550 will cover enrollment in the entire programme, allowing her to complete both the foundations module and the advanced management module to earn her Certificate of Entrepreneurship.
To purchase your gift, you may:
Pay by cheque: Send a crossed cheque made out to aidha ltd. along with your name,
contact details, and your helper's name to aidha at 2 Nassim Road, S258370
Pay by credit card: Visit our website's charitable donation portal at www.aidha.org/about/become-a-friend-of-aidha/become-a-friend-of-aidha/.
Simply 'become a friend of aidha' specifying your gift is in honor of your helper.
Upon receipt of payment, aidha will send you our holiday gift card to give to your helper and she can come by our schoolhouse and enroll for the world's micro business school course that suits her schedule.
For more information please call 6732-5434 or email info@aidha.org.