Enlarge
2010: A special commendation for Constance Singam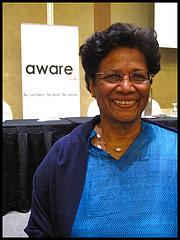 In 2010, on the occasion of AWARE's 25th anniversary, a special commendation was given to Ms Constance Singam, in recognition of her outstanding Contributions to the leadership of AWARE and its standing in civil society.
Constance Singam has served AWARE for more than two decades. She was President for three terms – 1987-89, 1994-1996, and 2007-2009.
As AWARE President, and also as President of the Singapore Council of Women's Organisation (1990-93), Constance played a pioneering role in the effort to end violence against women, in particular, violence in the home.
Her ground-breaking work brought together many parties including the Singapore Police Force, the National Crime Prevention Board, hospitals and social service organisations. It resulted in increased police intervention in domestic violence, enhanced hospital and police procedures for handling cases of violence against women including rape, and heightened public awareness and debate of these issues.
The work to eradicate systemic discrimination against women is long and exacting, and it calls for exceptional physical, emotional and intellectual stamina. Constance's commitment to this work is an inspiration to all. She has been a tireless advocate on issues of gender inequality, such as the policy of regarding men as the head of the household, the 30 per cent quota on women entering medical school, and the denial of citizenship to children born out of Singapore to Singapore mothers.
Constance has been a consistent voice for social justice. In reports, commentaries and speeches, she has many a time been the voice of the voiceless in our society. Outside of AWARE, she has taken the lead in mobilising fellow Singaporeans to activism.
In 1991, on her initiative, the Society Against Family Violence (SAFV) was set up to consolidate and build on the work on domestic violence. The SAFV is still in operation today.
In 1998, Constance played a pivotal role in The Working Committee for Singapore (TWC), a year-long initiative to galvanise civil society groups into forming a network of advocates. TWC became the inspiration and model for Transient Workers Count Too (TWC2), an advocacy group for the rights of migrant workers in Singapore. Constance was a founding member of TWC2.
Constance's work for AWARE and for Singapore society are documented in the book Singapore: The Encyclopaedia.
Constance has never failed to answer a call from AWARE.
We are very pleased and proud to acknowledge Constance Singam's tremendous contributions to AWARE; her constancy and her commitment to bettering the lives of Singapore women; and the exceptional role she has played in AWARE's standing as a leading voice in civil society.
---