December 20th, 2011
An eventful year for women's rights
Regime-changing revolutions, global protests, and other landmark achievements: A look back at 2011.
By Veesha Chohan
Three female leaders win Nobel Peace Prize
Liberia President Ellen Johnson Sirleaf, Liberian activist Leymah Gbowee and Yemen activist Tawakul Karman were recognised for their non-violent struggle to ensure the safety of women and for their right to full participation in peace-building initiatives.
Mrs Sirleaf is the first and only female elected head of state in Africa. Ms Gbowee is a Liberian peace activist and Ms Karman is a leading figure in Yemen's pro-democracy movement.
Describing this year's decision as "a very important signal to women all over the world," the Nobel Committee chairman stated that democracy would not be a viable institution unless women were given the same opportunities as men in contributing to developments in all areas of society.
The Arab Spring: A revolution for women
In the uprisings that took place across North Africa and the Middle East this year, hundreds of thousands of women broke with traditional cultural norms and assumed leadership roles on the frontline of revolutions aimed at overturning oppressive regimes.
Many were beaten, arrested and shot, and there are more struggles to come. As countries like Tunisia, Libya and Egypt re-group in the aftermath of the protests, there are serious doubts about whether these female activists will be able to continue in their leadership roles during the nation-building process, and help ensure that equal rights for women form a key tenet of the new regimes.
Despite daunting odds, there is cause for optimism. In Tunisia, for instance, women played an active role in administering the October election, and all the political parties that won significant seats responded to Human Rights Watch's pre-election survey reinstating their support for gender equality.
Christine Lagarde becomes head of International Monetary Fund
As the first woman to secure the top job at the International Monetary Fund (IMF), former France finance minister Christine Lagarde was already assured of a place in the history books.
The fact that she replaced the scandal-plagued Dominique Strauss-Kahn – he resigned from the IMF amid a flurry of sexual assault allegations – was a touch of poetic justice not even the most starry-eyed feminist could have predicted.
Lagarde crafted an unusually public and global campaign for the IMF job, using Twitter to reach out to emerging economies like Brazil and India. She also held an online conference where she took questions from followers on Facebook.
Edwin Truman, a senior fellow at the Peterson Institute for International Economics, describes Lagarde as an aggressive spokesperson for the advancement of women in all areas of life. As the Eurozone crisis continues to generate global anxiety, Lagarde's performance will certainly continue to be a subject of scrutiny in the year ahead.
Latin America embraces female leadership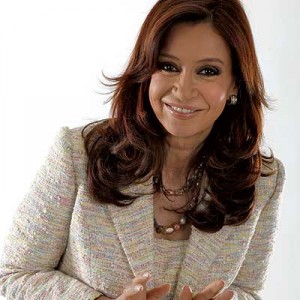 In October, Argentina's Cristina Fernandez was re-elected in a landslide victory, winning the election with one of the widest victory margins in Argentina's history and becoming the country's first re-elected female President.
Fernandez joins Brazil's Dilma Rousseff and Costa Rica's Laura Chinchilla as one of Latin America's current female heads of state. Countries like Chile, Ecuador, Panama and Nicaragua have also seen women ascend to top leadership roles in recent years.
What makes Latin America so receptive to electing female leaders? Analysing the phenomenon in 2006, Slate cites gender quotas as one factor that has helped women to emerge as serious contenders for top government jobs: "Since 1991, 12 Latin American countries have enacted quota laws that in some cases have doubled the number of female congressional representatives. While in the United States women make up just 15 percent of the House of Representatives and 14 percent of the Senate, in Argentina and Costa Rica, women comprise fully one-third of the national congresses."
Asian women rule the business world
Sabanci Group CEO Guler Sabanci, Pepsico CEO Indra Nooyi, President of Gree group Dong Mingzhu and President of China Power International Development Limited Li Xiaolin topped the 2011 Financial Times Global Top 50 Business Women List.
Outstanding business-women from China and India, in fact, made up over 20 percent of this list.
Singapore also did well, with Chua Sock Koong of SingTel, Olivia Lum of Hyflux and Ho Ching of Temasek Holdings making the list. This is no mean feat. As Forbes put it: "Singapore has a population of just over 5 million population –or 0.07% of the world's population – yet made up 6% of the list."
Mara Hvistendahl reveals the danger of valuing boys over girls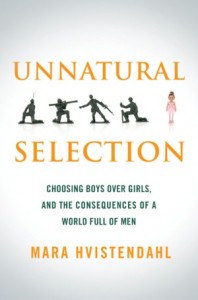 In her first book, Unnatural Selection: Choosing Boys Over Girls & The Consequences Of A World Full Of Men, American science journalist Mara Hvistendahl shines a spotlight on the pressing issue of missing women.
Since the late 1970s, 163 million female babies have been aborted by parents seeking sons. Hvistendahl traces the ideas and events that led to the prevalence of sex-selective abortions.
She also makes the provocative claim that female empowerment has led to more sex selection, not less – Women are using their increased autonomy to select sons because male offspring still bring a higher social status in many cultures.
These choices have grave consequences, with gender-imbalanced nations becoming more socially unstable and vulnerable to sex trafficking.
The book raises thorny questions about the notion of choice, perhaps unintentionally, as the Wall Street Journal speculates: "Unnatural Selection might be one of the most consequential books ever written in the campaign against abortion. It is aimed, like a heat-seeking missile, against the entire intellectual framework of 'choice'. For if 'choice' is the moral imperative guiding abortion, then there is no way to take a stand against 'gendercide'. Aborting a baby because she is a girl is no different from aborting a baby because she has Down syndrome or because the mother's 'mental health' requires it. Choice is choice."
Slutwalk goes global
This movement emerged in Canada in April, after a Toronto police officer suggested during a public forum that "women should avoid dressing like sluts in order not to be victimized".
SlutWalks have now taken place in more than 40 different countries around the world.
On December 4, SlutWalks took place in Singapore, Hong Kong, Bangalore and Mumbai, with organisers in these cities presenting a united front against sexual violence.
NASA celebrates women's contributions to science and exploration
US government agency National Aeronautics And Space Administration (NASA) helped put men on the moon, and it has set its sights on boosting female participation in the fields of science, technology, engineering and math (collectively known as STEM).
This year, it launched a new website, Women@NASA, dedicated to celebrating the contributions women have made to science and exploration. The website aims to encourage more young women to pursue careers in STEM industries. In the US, women hold less than 25 percent of all STEM jobs.
The Women@NASA project shares the stories of 32 women from the organisation who have contributed to NASA's missions, hoping to inspire girls around the world to reach for the stars.
South-east Asian women's groups reject Obedient Wives Club
Earlier this year, The Obedient Wives Club was launched in Malaysia by the controversial Global Ikhwan group. Branches in Indonesia, Singapore, Jordan, Australia and England were subsequently established.
Despite its swift expansion, the club has not gained traction, instead attracting widespread criticism for its belief that the sexual submission of a wife to her husband will reduce the likelihood of the husband engaging in adultery and other related social ills like prostitution.
Facebook groups established against the club have described its teachings as sexist and senseless. In Malaysia, women's rights group Sisters-in-Islam and Women, Family and Community Development Minister Shahrizat Jalil spoke out against the club.
In Singapore, the Islamic Religious Council (Muis) issued a statement that said "happiness in a marriage goes beyond receiving sexual fulfilment from one's wife", while Indonesia's Women's Empowerment Minister Linda Gumelar called the group a "setback for Indonesia".
Hillary Clinton discusses democracy with Aung San Suu Kyi
In December, two of the world's most famous female political figures met to discuss much-needed democratic reform for Burma.
The meeting between U.S. Secretary of State Hilary Clinton and the leader of Burma's pro-democracy movement Aung San Suu Kyi marked an incredible sign of change in the South-east Asian country.
Aung San Suu Kyi is currently preparing for a return to politics, having confirmed that she plans to run in next year's parliamentary elections. Her previous efforts to implement democratic reform and cultivate a decisive win for her party, the National League for Democracy, was terminated due to the military's crackdown on pro-democracy movements.
Hillary Clinton has endorsed Suu Kyi as a member of the new parliament, supporting the latter's aim of enforcing a rule of law and releasing all remaining political prisoners.
The writer is an AWARE intern majoring in International Relations at the University of Queensland.