January 5th, 2012
Thoughts after watching Aunty Lucy
AWARE member Lee Yenyen (pictured below) ponders the damaging gender stereotypes found in the Chinese-language media here.
By Lee Yenyen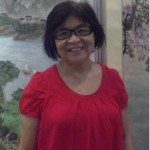 Watching an episode of Aunty Lucy left me feeling much infuriation.
For the sake of giving a review, I made myself watch three episodes. Not only did I waste three precious Sunday afternoons, I had to tolerate vulgar insults which killed many of my brain cells.
Such a distasteful programme released for the sake of attracting advertising dollars is a waste of time, a compromise on appeal and a lost opportunity to attract a more discerning audience. The high viewership, and a win at the Star Awards, have only proven an inclination towards tasteless entertainment. The show is full of Low discerning abilities, perceiving what is repulsive to be interesting, and yet it is lauded.
When women gain weight – whether it's middle-age spread or pregnancy weight –  it is apparently never a good thing.  It's a curse. If the weight is not gotten rid of, what we'll see is an obese demon. Who'll love you then? Who'd want you? Without diets, without makeovers, your fate is to be despised by men and made the subject of jokes. This is a tragedy! Without a man's love and affection, it's as though a woman has been thrown into the depths of hell – and she deserves it, for putting on weight and not losing it.
Even if you aren't shunned by your husband, your appearance will bring looks of disdain from others. A man with a dumpy wife by his side invites comparisons to beauty and the beast, eliciting jokes aplenty.
And then…Aunty Lucy appears. With relentless nagging, she hauls a deluge of such females off to beauty centres for treatments, with no regard at all as to how much the treatments cost and whether the women are able to afford it. Money rolling out of your bank account is still better than your husband having an affair – that would be the real calamity!
After marriage, childbirth, middle age, old age…fear, self-loathing, lack of confidence and guilt all come along…how pitiful for Chinese women!
安娣露西观感
一系列安娣露西的促销 广告, 看得我无名火冒三丈!
为了评论, 勉强看完三系列。 枉费了三个星期日下午宝贵时间,还有满脑子经受烂言乱语污染的屈辱, 细胞死了还真不少!黄金时间。 为了可观的 广告费, 推出如此烂素质的节目 – 浪费了时间, 也流失了有高品味观众。 收视率的强劲,红星的得奖, 只证明了低级趣味的普遍。觉醒能力之低弱, 肉麻当有趣, 污辱字眼泛滥 , 竟然引来一个"赞"?
讲华语一族, 通常被归化为阿明, 阿花之类。 为搞笑,梁细妹, 粱婆婆出炉了,而且搞得风水起, 得奖连连。于是乎, 近年来, 男儿身不时兴, 兴来男假女身。一炮而红, 一夕名声大噪! 婆婆下台,安娣上台。
可怜狮城妖娆哥! 也来作兴。 东施效颦, 麻烦惹上身。
华语黄金时段电视节目, 针对华文教育群?种种 贬低语言,种种嗤之以鼻的 动作, 更让高素质、 国家刻意攘留的环球人才, 觉得无地自容!
能怪三顾茅芦之才, 去留取舍之间,选择不留守吗?
声声呼吁,学好华文华语的政策, 能奏效吗?中华文化几千年历史都让沫黑了。
女性中年发福,孕妇发福,都不 是一种好兆头, 是一种罪孽。谁来爱你? 谁还要你? 不减肥, 不作型像处理, 被男人丈夫嫌弃,打骂,抛弃,人人讥笑。没有男人爱,没有男人要,女人给判入了地狱,是咎由自取!
丈夫不嫌弃, 也会惹来异样眼光,闲言闲语。 丈夫是一表人才, 胖嘟嘟的太太,站在身旁, 百份百的野兽配俊男。惹来了笑话会是一篓篓。
如此这般, 安娣露西便出场了。 持着一种恨铁不成钢的苦口婆心, 带着这群处在地狱边缘的女性,一个个盲盲往美容整形院闯, 也不问费用多少, 可否承担得来。
钱由储蓄户口 源源滚滚出, 花钱消灾。丈夫觅外遇, 才真是世界末日!
结婚后, 产后, 中年, 老年。。。恐惧, 自卑,无自信, 罪恶感。。。源源而生。。。可怜了华夏妇女群。
The writer is a life member and former executive committee member of AWARE. The English translation was done by Yip Ka Man.