February 6th, 2012
Calling for an inclusive 2012 Singapore Budget
The needs of vulnerable groups like older women and those in financial distress, in particular, should be addressed – No one should fall through the cracks.
In response to the government's call for public feedback for the Singapore Budget 2012, AWARE has submitted a position paper with recommendations for an inclusive budget to address women's priority issues. This is the second year in which we are submitting such feedback.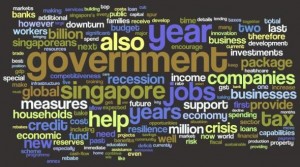 AWARE calls for an inclusive 2012 budget to support a caring society. To ensure a truly inclusive society, women's issues must be addressed fully as national issues. AWARE thus calls for a budget that adequately meets the needs of all women in Singapore, regardless of age, marital status and disabilities. This is aligned with the State's commitment and obligation to the United Nations Convention on the Elimination of All Forms of Discrimination Against Women (CEDAW).
Most caregivers in Singapore are women, who often experience adverse results for professional advancement and long-term financial security, due to lack of support. The Budget needs to reflect the state's commitment to supporting women in both the workplace and at home.
AWARE also calls for a national budget that cares for vulnerable groups, particularly older women, persons with disabilities and those in financial distress. No one should fall through the cracks.
Our policy recommendations include:
Comprehensive healthcare for an ageing population
All Singaporeans over 85 should be provided with free Medishield coverage for life, and Medisave accounts should be periodically topped up from budgetary surpluses, in proportion to the age of the recipient as well as household income.
   It should be mandated that a specified percentage of a husband's CPF be deposited into his stay-at-home wife's Medisave account. Or, incentives (e.g. tax reliefs or additional top ups) should be provided for husbands to top up their stay-at-home wives' Medisave account.
Subsidies should be given for the long-term care of elderly family members.
Comprehensive support of lower-income and vulnerable groups
Public spending on social programmes should be restored to the pre-1990 level of around 20% of GDP and should gradually increase in the next few years to around 25% as the population ages.
Eligibility criteria for ComCare and Public Assistance should be revised upwards to include household incomes of more than $1,500 per month up to the 30th percentile.
Public assistance and other forms of social support currently available to Singaporean women should be made available to the foreign wives of Singaporeans when they are in distress, as they are without any other form of social safety net.
Widened access to subsidies for infant care and childcare
Access to childcare subsidies, motherhood benefits and housing benefits should be widened to include all mothers, without discrimination against unwed mothers or stay-at-home mothers.
Paid paternity leave of two weeks should be made mandatory.
One month of the current four-month maternity leave should be converted to parental leave to be taken by either spouse.
Enabling persons with disabilities to be equal members of an inclusive society
Free or subsidized medical benefits for persons with disability, including financial support for the cost of rehabilitation, medicines, treatment and health insurance.
Measures to protect women and girls with disabilities from all forms of violence at home and in the community should be promoted in all institutions, services and programmes.
Publicly available database of vulnerable groups in Singapore society
Research resources with scientific support should be mobilised to collect data of vulnerable groups in Singapore, so as to provide data that is sufficiently detailed, consistent, regularly updated and disaggregated by sex, age and citizenship.
Read the full text of AWARE's submission here.