February 25th, 2013
Budget 2013: Caregivers still unrecognised
FOR IMMEDIATE RELEASE
25th February 2013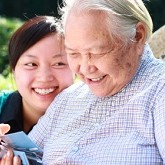 We are heartened by the focus in this year's Budget Speech on making Singapore a more inclusive society. In particular we welcome the commitment to reducing income inequalities and promoting social mobility.
The doubling to $3bn of spending on pre-school facilities over the next five years is a long overdue step to ensure that every child has an equal start in life. Having good, affordable and conveniently located pre-school facilities is a critical factor in getting women who have had children to return to the workforce, and in persuading others to have children. Expanding afterschool availability is also commendable.
AWARE is heartened that the Ministry of Health will be doing a thorough review of healthcare financing in Singapore with a view to lowering the out of pocket amounts to be paid by individuals. We further call on the Minister of Health to prioritise chronic care management and to consider instituting comprehensive health insurance that covers all persons, without discriminating against those who are unemployed or are low waged.
We are glad that a proportion of the approximately 200,000 families who currently hire foreign domestic workers (FDW) will benefit from the lowering of the concessionary maid levy from $170 to $120. This reduction of the concessionary maid levy will not benefit poorer families who are not able to afford hiring a FDW in the first place, including those where family members are themselves unpaid and unrecognised caregivers.
AWARE calls for greater support for women who have left or stayed out of the workforce due to their caregiving responsibilities. Ministry of Manpower figures show that as many as 68 percent of women who are not in the workforce identify caregiving responsibilities as the reason why they are not doing paid work.
While we applaud the Government for co-funding 40% of wage increases for Singaporean employees over the next 3 years, as part of the wage credit scheme (WCS), we are nevertheless concerned that only 58 percent of women are currently in the labour force. Concrete measures to expand the female labour force participation rate are needed to ensure that women who are not employed do not get increasingly marginalised in a progressively upgraded economy. The budget was silent on the provision of incentives for promoting flexible work arrangements.
Read AWARE's full recommendations to the Singapore Budget 2013 here.
Read AWARE's submissions to the National Population and Talent Division on Marriage and Parenthood Trends here.