September 22nd, 2015
Vote for your favourite sexists for the Alamak! Award 2015
The popular AWARE Alamak! Awards are back!
Every year, the AWARE Awards celebrate individuals and organisations that have promoted gender equality in Singapore. At the same time, the Alamak! Award is given out to the most jaw-dropping instance of sexism, as decided by you!
The recipients of both Awards will be revealed at our Big Birthday Ball on 7 November.
This year, you have a choice between four candidates. Take a look at their work and cast your votes below. You can cast two votes.
All the anti-mother sexist attacks of GE2015
Notoriously, Cheo Chai Chen called rival Tin Pei Ling's new mother status a "weakness", but he wasn't alone.  Mothership's Belmont Lay gasped that Kevryn Lim was a single mother (imagine, they exist) and derided photographs from her modelling work as "unmotherly".   Lim Boon Heng slapped working mothers in the face by suggesting that leaving the house to stand for elections "puts mother-child relationships at risk".  And TODAY's newspaper headlines introduced three new male candidates by profession – while labelling entrepreneur Jaslyn Go "mother-of-two".
SlimFit's SG50 'bust enhancement' ad
#simisaialsoSG50, with an incoherent sexist twist. Seems like the best way to celebrate and honour the hard labour of Samsui women is to… go for 'bust enhancement'. After all, aren't breast shape and size the crowning achievement for every woman? NewNation skewered this well.
Ogilvy & Mather's 'Mums and Maids' advertisement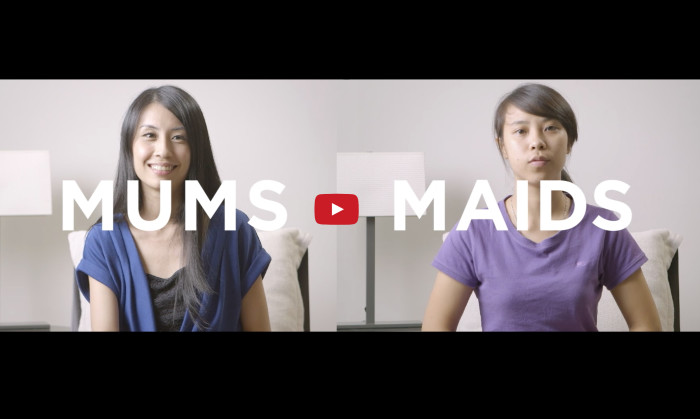 Fathers?  What are those?  It's all your fault, working mothers, that domestic workers have inadequate labour rights – nothing to do with exclusion from the Employment Act or a sexist culture that devalues childcare because it's 'women's work'.  A sexist culture that, it so happens, this video reinforces.  O&M were advised about this from the early stages of the project, so they had the opportunity to change their approach, but they refused.  No wonder the ad was roundly criticised by many, including advocates for migrant workers.
Jack Ripper burger stall
A man targets women for gruesome, sadistic murders. Apparently this is hilarious? Or ~*~cOoL & eDgY~*~? Who knows – but this kopitiam burger stall thinks it's somehow attractive to name its food products after victims of misogynist violence. ALAMAK!
---
Cast your votes (you have two votes!):
---
Voting is open from now till 1 November 2015. Do share this post with your family and friends so they too can vote for their favourite sexists!
The winner will be revealed at our fundraising gala, the Big Birthday Ball on 7 November. Don't forget to watch this space, or follow us on Twitter and Facebook to find out who won!
If you'd like to support us as we strive for gender equality, do consider contributing to our gala as a donor or a volunteer!
You can also check out last year's winners for both the AWARE and Alamak! Awards here.