Enlarge
Recipients of AWARE Awards 2011
The winners of the inaugural AWARE Awards, Singapore's first gender equality award, were announced at AWARE's fundraising gala, the Big Ball 2011, held on October 17 at the Grand Hyatt hotel.
There were three categories for the AWARE Awards 2011: The AWARE Heroine, the AWARE Hero, and the AWARE Young Wonder (for an individual under 30 years of age).
The winners were chosen by a panel of judges, comprising AWARE board member and education entrepreneur Lindy Ong, playwright Eleanor Wong, journalist Ong Soh Chin, academic Philip Holden and ambassador-at-large Professor Tommy Koh.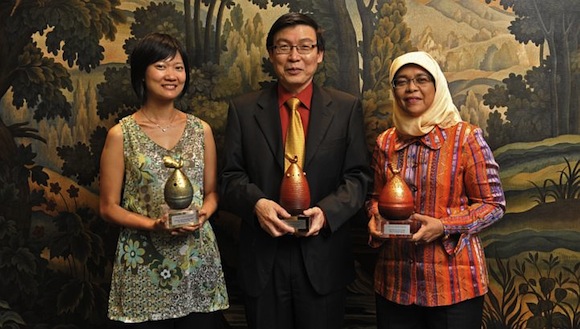 The AWARE Heroine: Madam Halimah Yacob
As Director of NTUC's Women's Development Secretariat, Madam Halimah's leadership was crucial to providing support for single mothers, lower-income women seeking employment, women rejoining the work force and women seeking leadership in various unions.
As a Member of Parliament, she has been passionate about raising issues that improve the lives of women, including anti-discrimination measures for pregnant female employees, protecting the rights of domestic workers, as well as protection against sexual harassment.
The AWARE Hero: Mr Benny Bong
Mr Bong is known for his work in the prevention of family violence and violence against women, especially in counselling male perpetrators of violence. He has made a significant contribution to dealing with gender violence at all levels, including policy, research, advocacy and training.
He advocated for criminalising marital rape and has been instrumental in initiating training programmes for police officers on family violence dynamics. He was also the joint organiser of the International Violence Against Women Survey in Singapore in 2009, for which 2006 women were interviewed to find out the prevalence of violence against women in Singapore compared to other countries.
The AWARE Young Wonders: Ms Jolene Tan and Ms Wong Pei Chi
The Young Wonder award was given jointly to Ms Tan and Ms Wong for their work in organizing the No To Rape campaign, which continues today. Raping one's wife is still not considered rape under Singapore law, and these young women, along with other members of the No To Rape team, have been working to change this since 2009 through initiatives such as petitions, public education campaigns and discussions with the media, Members of Parliament and community leaders.
---