Enlarge
Volunteer

Volunteering with AWARE can be a great opportunity to give back to the community, learn and develop new skills, build your experience and resumé, and make a difference. We want to stir your passion on the topic that relates most to you. We do our best to accommodate your interest and time commitments. Volunteers are also welcome to attend the many training courses and discussions AWARE offers.
We have opportunities for those that want to work remotely, at the AWARE office or a combination of both. Your commitment can range from working on an ad-hoc basis, part time or full time for any length of time! Read our list of volunteer opportunities, but let us know if you're interested in a position beyond the ones listed.
VOLUNTEER MISSION STATEMENT
AWARE's relationship with its volunteers must be one that is mutually beneficial. AWARE seeks reliable and enthusiastic volunteers. In turn, AWARE aims to provide interesting and challenging volunteer positions, and provide an environment in which a person feels valued and can grow through meeting dynamic people and being exposed to new ideas.
GET TO KNOW AWARE
If you want to find out more about AWARE and our volunteer activities, attend one of our monthly "Get to Know AWARE" nights. This is a casual open-house event where you can learn more about the activities of the organisation and the people who work and volunteer there.
AWARE's volunteer opportunities are open to everyone. We can find work to suit different backgrounds and availabilities.

BECOME A VOLUNTEER TODAY!
We're glad you're interested in joining AWARE. Follow these steps to let us know of your interest, and we'll be in touch!
On the left sidebar, log in to AWAREOnline, or create an account*.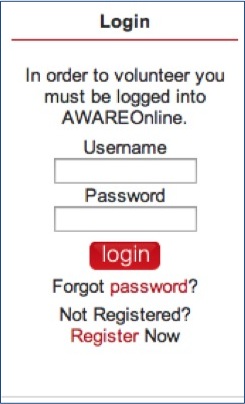 Click on 'Volunteer Registration' after logging in, and complete the form.
Eagerly await our follow-up email! (You can read our guide for volunteers while you wait.)
*Note: You need not be an AWARE member to volunteer. We would encourage all our volunteers to be members, but you can volunteer without signing up. More information on membership can be found here. If you wish to become a volunteer without becoming a member, please complete the online registration process up to the point when you are asked for payment, but do not proceed with payment. This will help us obtain your registration details to administer volunteering.
If you have any questions, do contact Sumithri at volunteering@aware.org.sg.
We look forward to working with you! 
---