Enlarge
Counselling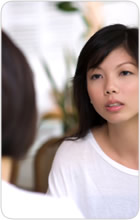 Our counsellors provide counselling for women.
Maintaining strict confidentiality, our professional team can assist women in areas such as:
Sexual harassment and assault
Marital issues
Psychological issues
Stress management
Bereavement
Grief and loss
Crisis and trauma
Family violence
Sexuality issues
Adjustment and relocation issues
Call our Helpline to find out more about our Counselling services.
The AWARE Helpline is open Monday to Friday from 3pm to 9.30pm.
Call 1800 774 5935 to speak to a Helpliner if you have a problem or want to find out more about our services.
You can also email us for more information:


All calls and cases are kept strictly confidential.
---